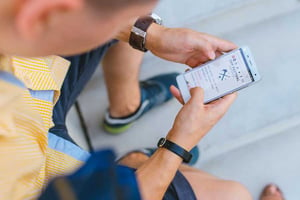 2015 was another red-hot year for mobile technology.
The number of mobile devices has now surpassed the global human population. More than ever, consumers are interacting with businesses using their mobile devices before going through any other channel. "Millennials are changing the mobile landscape," Steven French, Global Vice President from Amdocs said, "the group is projected to have a purchasing power of $2.45 trillion by 2015 and prefers mobile as their number-one way to be reached and interact".
However, Millenials are not the only age group to put under the magnifying glass. Research indicates that 72% of Baby Boomers with an income over $75,000 have a smartphone. It's a grave mistake for any company trying to market its revamped mobile business to dismiss the 50+ age group.
It is true that Baby Boomers have slower adoption rates; however, they also control 70% of disposable income in the United States and spend nearly $7 billion per year online on consumer purchases. On average, Boomers spend 19 hours a week online and 71% use a social networking site daily. Furthermore, recent research shows that boomers are quickly closing the gap between themselves and Millennials with regards to new technology adoption as their technical prowess continues to advance.
Becoming Mobile-First
As "mobile-first" becomes the norm for every age group, consumers from all demographics are able to quickly understand each other when referencing products and services that have captured their interest. Whether it's via face-to-face interaction, email, a text message, a Dropbox shared folder or an Instagram direct message, the language is clear and the smartphone is the sharing tool of choice. This trend of convergence and mobile is accelerating quickly, and the question becomes: which businesses will be able to successfully market & monetize their mobile arm?
Heather Cox, the Chief Client Officer at Citigroup reflects on how these trends are affecting every way that she shapes her customers experience and overall marketing strategy. Mobile has forced her business to adapt to a new marketing approach that has shifted from just selling to providing a personalized buying experience centered on each consumer's own habits, preferences and constraints. Cox explains: "The whole element of moving the position from sell to buy is something we're going to be working on over the course of 2015 and beyond: how to engage customers with products and services very differently … the notion of the marketing funnel fundamentally changes. It becomes much more about a lifecycle, that circular notion of over time — how do we catch people, using data, and actually help them in the moment".
Adopting Mobile in Business
Businesses in 2016 will have to realize that, through mobile, customers data is organized in a way that gives each business immense information and power over how to reach their customers. Each business can now use the mobile platform to offer new products and services on a rolling-basis, while automating and keeping track of how each consumer shift their spending choices based on financial and non-financial constraints.
Businesses that have resisted the switch to mobile now have no choice. More than just a matter of increasing customer interaction, a business must enable its employees to work anywhere, anytime with a mobile platform that increases productivity and efficiency. For instance, a fully-enabled mobile sales force will prove to be crucial for each sales representative to automate their information gathering process, showcase presentations, utilize the power of images and video to entice customers, and access pertinent product and company information to close a sale.
Businesses must therefore look at the future of mobile through a two-pronged approach: continuous customer interaction and equipping their workforce to capitalize on this new era. Both strategies can be tackled by making sure that every part of the business' buying and selling process is accessible through mobile.
Mobile-Centric Customer Experiences
40% of users will choose another result when searching for a product or service if the first one is not mobile-friendly. Mobile users who find your business online have a conversion percentage nearly three times higher than the same search done on a desktop or laptop. Why? Mobile users are on the go. When you're browsing, you grab the laptop and start researching or just satisfying curiosity for products or services. When you grab your smartphone to search, you have a specific intent in mind, whether it be food, clothing or an oil change for your car. Mobile searchers are buyers, assuming you can meet their needs.
In the coming months, companies that aren't already mobile-centric will start to cross the divide to increasingly screen-agnostic mobile platforms, allowing employees to keep working, no matter what devices they're using. Laptop/desktop applications will begin to emulate their mobile counterparts as mobile continues to become the business tool of choice.
After a day of working in the field, interacting with customers and holding meetings, a sales representative will arrive at the office and seek to access information on his or her laptop/desktop interface that closely resembles the information gathered that day on his or her mobile device.
Internet of Things
Furthermore, apps are increasingly becoming experiences that live across multiple endpoints, from wearables to phones, tablets, and web applications. As this trend proceeds in 2016, offerings that can seamlessly transfer between these states as you move from one device to the next will have a huge advantage.
In 2016, mobility will peak with new facets that will enable handsets to link to a plethora of gadgets, vehicles and personal electronic equipment. Moreover, by 2020, the number of devices connected to the Internet is expected to exceed 40 billion. As Larry Page, co-founder of Google Inc. observed: "We are no longer in a mobile first world, we are in a mobile-only world".

To learn more about how your company can integrate these mobile trends into your IT strategy to stay on top of the competition, contact us today for a free consultation.