By Jordan Sojnocki, Marketing Manager & Eden Watt, VP of Application Innovation
Here are 5 important trends in mobile computing and these will impact your corporate strategy.
How content is consumed over the web is changing. Cellphone/smartphone usage is quickly taking over personal computer usage. In fact, a Norton report from two years ago found that 48% of people sleep within arm's reach of their phones. 25% check their phone during a dinner with friends, and 49% of people get upset if they leave their mobile phones at home when they go out.
These percentages are even higher amongst Millennials, so the trend doesn't appear to be changing any time soon. It's not just that people are using their phones instead of computers, but they constantly have access to their mobile devices which changes the nature of their online activity.
As the landscape changes, it is important to consider how to best engage your customers and provide the best tools to your staff.
Trend 1: 44% of Fortune 500 Websites Fail Google's Mobile Ready Test
Starting April 21, 2015, Google changed their algorithm to award websites that are mobile-friendly with a higher ranking when people search. This is exciting for anyone with the foresight to have their website ready, and scary for anyone who didn't. For many of you, having a mobile-friendly website also represents a great opportunity to exceed your competition, especially when you consider that 44% of Fortune 500 companies do not even pass the test.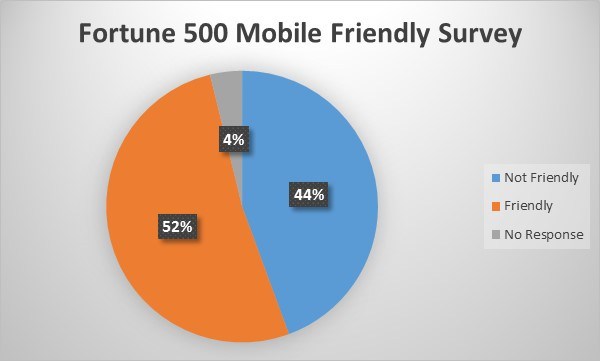 Trend 2:

93% of people who use a mobile device go on to make a purchase
With people having constant access to their mobile devices, research on your product can also be done constantly.
This means that no longer is it just done before the purchase, but it can happen while a customer is purchasing. The stats around this are alarming. According to a study published by Google in May 2015, 82% of smartphone users are using their devices in stores to help them make a product decision and one in four shoppers have even admitted to changing their mind in line after reading something on their smart phone.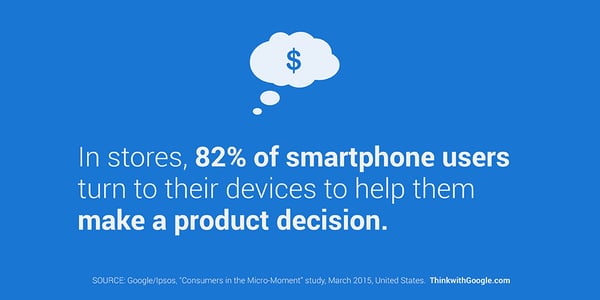 Trend 3: 42% of researchers use a mobile device during the B2B purchasing process
Constantly, when investigating marketing strategies, I hear opinions that certain strategies will work in the B2C market but that they are irrelevant in the B2B market. The data might show that mobile in the B2C is much more prevalent than B2B, but even at the current number of 42% this is clearly not something you want to ignore.
People are looking for information about you and your services on their mobile device and if your competitor is more engaging on that platform, where do you think they are going to go? The B2B buying process has evolved, and your marketing should evolve to stay aligned.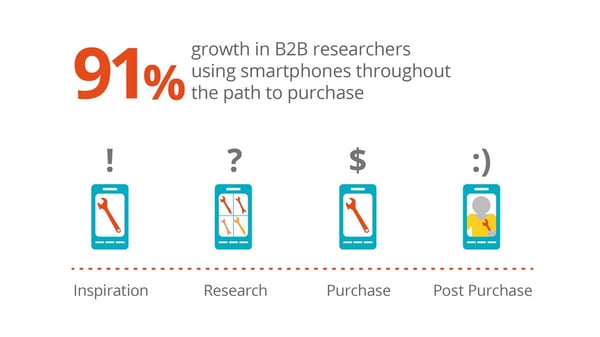 Fact 4: The number of enterprise mobile devices worldwide increased by 72% last year
The adoption for mobile devices in the enterprise world is exploding as many companies are seeing huge value in enabling their teams to be more mobile. A KPMG survey of 539 global business executives showed that the top 3 ways mobile drives value for organizations was through increased employee productivity, higher employee satisfaction and improved field service operations.
These trends must be adapted to, as it is becoming apparent that this could be the difference between remaining competitive or falling behind.

Fact 5: By the end of 2015, only 15% of large organizations will have adequate mobile security governance for process and policy
Although there are huge benefits to this new mobile world, it does present some new risks, even some bizarre ones like public accounts being bound to vendors. This doesn't include tablets because they weren't invented when they had put out their requirements. It is important that you (or a professional) review your corporate policies and what you are doing to protect your organization so that what was once considered a blessing doesn't become a nightmare.
With this mobile world, it is important that you keep up with the new terminology
Here are some explanations of new terms associated mobile to help you navigate the enterprise mobile world.
1. BYOD (Bring Your Own Device)
BYOD refers to the growing trend whereby employees will bring their own devices (usually smartphones or tablets) and expect to gain access to enterprise systems. This increases the challenges for IT as they can no longer dictate the end user device and must handle deployment, management, and security risks
2. MEAP (Mobile Enterprise Application Platform)
MEAP provides "Write Once Run Anywhere" ability to build mobile applications, connect to and run backend systems for mobile.
3. MAM
(

Mobile Application Management)

MAM provides capabilities for app delivery and updating, app version management, push services, reporting, app disable, and runtime security tests, enterprise app store for distribution.
4. MDM
(

Mobile Device Management)

MDM technology allows IT to manage mobile devices and applications, secure mobile devices (e.g. wipe device, remote locking), and provide access to enterprise resources.

We would love to hear how mobile is changing your organization, including any big wins or any drawbacks or challenges you have been experiencing. Please comment below or reach out to use at info@ableone.com.