With more than 15 years experience in the cyber security industry, Danny Pehar has developed multimillion-dollar cyber security projects across North America.
Danny is a bestselling author and uses his own Executive Security Storytelling formula to successfully educate organizations on the fascinating world of cyber security and cyber insurance. He's also built an engaged television audience through his regular appearances on the Global Morning Show.
Danny has spoken on the topic of cyber security and cyber insurance throughout various industries and has worked with numerous Fortune 500 companies.
---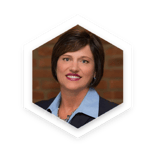 Doreen Sebben
Vice President, Solutions
Able-One Systems
The world is changing at an unprecedented rate: industry lines are blurring, new entrants are emerging and disruption is everywhere. As the Leader of Able-One Solutions Division, Doreen Sebben's role is to help clients embrace disruption, execute on innovative agendas and drive a unique client experience by leveraging Cognitive, Analytic, and Security solutions.
Doreen is a dynamic and very energetic senior leader with over 25 years of experience in the Information Technology industry. In addition to launching the Solutions Division, she has teamed with our strategic partners to accelerate our clients' and Able-One's transformation journey. By project managing a number of innovative projects, she is able to orchestrate people, partners, processes, and solutions, to exceed client expectations for growth. For many years, Doreen was the IBM Women in Technology Leader for South Western Ontario and she continues to volunteer in STEM initiatives.
---