API Economy For Supply Chain
API, it's the engine under the hood.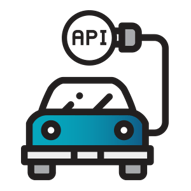 When it comes to managing your supply chain, keeping inventory levels low to control cost, while simultaneously remaining prepared to respond to new orders is crucial.

Retailers - along with anyone else concerned with a supply chain - should know that with the API Economy, companies can now build reusable services across multiple B2B trading partners and B2B processes on a single connectivity platform. This integration enables increased agility and decreased time for partner onboarding, while reducing cost and risk. The end result is high quality products, without the high inventory risk.
There are many other ways where APIs can provide value to your supply chain...

Partnering – If you offer B2B purchasing relationships, offering APIs that allow businesses to sign up for the program and place orders from their procurement systems can generate new customers and revenue.

Public APIs – Extending your reach to other industries that can send business to you is one of the large incentives of moving to an API economy. Depending on the type of retailer different industries can be partners.

Social / Big Data Analytics – Using social media APIs to search for comments about your company or products can help identify opportunities or threats which can be acted upon.

Device Integration / Wearables – Combining the shopping cart with in store location services and personal history can help promote products of interest. The shopping cart can host a screen that displays demonstrations of product usage or advertise products in the section you are near.

Data Assets – Retailers gather large amounts of data about their clients which may make these clients attractive potential customers for companies in other industries. Providing access to data assets in aggregate can be valuable.
Able-One Systems in partnership with TekMonks invites you to join our webinar on how utilizing the API economy for your AS/400 (IBM i) will allow your integration projects to be done faster, more cost effective, and with less development mistakes.
Webinar Presenter

Rad Dockery
Director of Digital Transformation at Able-One Systems
Register Below to watch!